Emergency!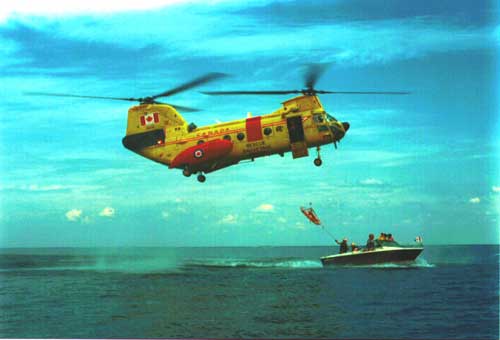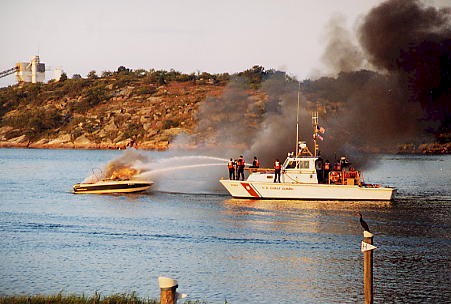 Being adequately prepared for marine emergency situations can mean the difference between life and death. Something as simple as making yourself and your crew familiar with emergency equipment and it's use can greatly increase your chances of being rescued.
Person Overboard
The first action to take when discovering a person overboard is to quickly alert the vessel operator by shouting 'Man Overboard!' and assign a crew member/passenger to keep a visual on the P.O.B. and to continuously point (with their hand) toward the P.O.B. so that the operator is aware of the P.O.B.'s location at all times. Throw a lifering to the person to further assist in spotting and to help keep s/he afloat.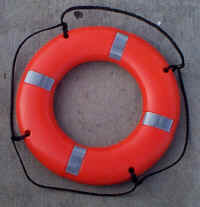 As soon as the operator is aware that a person has entered the water, s/he should immediately reduce speed and come about (around) the P.O.B. Always come from downwind, or into/against the waves to avoid drifting into/over the P.O.B. When coming alongside, apply a small amount of rudder in the direction of the P.O.B. The reason for doing this is to direct the vessels bow toward and propellers away from the person overboard and further avoid injury. When alongside, stop the engine and assist the person aboard. To retrieve the person from the water, use buoyant heaving lines and life buoys.
Capsize
It is almost always best to stay with your boat. A capsized boat is easier to see than a person in the water, and if the water is cold, the chances of reaching shore are limited. Distances are hard to judge from the surface of the water and the nearest beach might be a lot further off than first thought. To increase the chances of survival, try to climb onto the upturned boat to reduce the chance of hypothermia.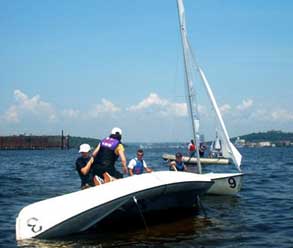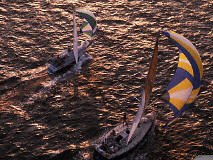 Even at low altitude, this photo demonstrates how hard it would be to spot a person in the water, in reasonable conditions.

Boats, however, are much easier to locate from an aircraft (in a Search and Rescue scenario).
Swamping, Sinking and Grounding
The first thing to do is to immediately don personal floatation devices or lifejackets (if you haven't already done so). Again, it is best to stay with the craft, when appropriate. Account for all persons on board and use or exhibit signals to indicate distress and need of assistance.
When a vessel runs aground, first stop the engine and raise or tilt it upward to take the propeller out of the water. Try to push off with a paddle or oar. If this does not work, try kedging off. This means someone must go over the side (wearing a PFD) and carry the anchor to deeper water. Get back on board and haul in the line.
If necessary, try to get another boater to help by towing the grounded vessel off the shoal. In tidal waters, wait for the next high water.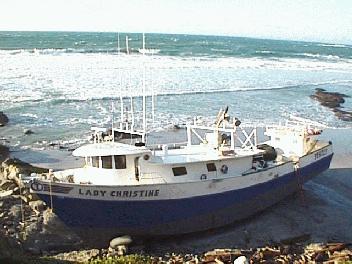 Breakdowns, Hulls Leaks and Flodding
In the event of a breakdown while cruising, the boater should be aware of the following actions:
Alter the speed of the craft as appropriate to the circumstances
Anchor the craft if required
Investigate the problem
Correct the problem, if possible and
Use or exhibit signals to indicated distress and need of assistance if necessary.
Remember, the best prevention against breakdowns is to maintain the equipment on a regular basis so that it is functioning properly at all times.
Boaters should be aware of the following actions to take place in the event of flooding or hull leaks:
Locate the source of the leak/flood
Try to stop the leakage/flooding, if possible, using an emergency repair kit
Remove accumulations of water in the bilge, hold or other compartments by using either hand-held bailers, manual pumps or bilge pumping systems, and if all efforts fail,
Use or exhibit signals to indicate distress and need of assitance
Boaters should carry on board at all times an anti-flooding kit appropriate for the type of craft to temporarily stop leaks or flooding. A homemade kit could contain:
Rubber plugs or wooden plugs (depending on vessel)
Pieces of wood and plywood
A bathroom plunger
Duct tape
Getting Help on the Water
Marine Search and Rescue (SAR) for inland waters is a civil responsibility, often under the jurisdiction of local Fire Departments. Familiarize yourself with local SAR resources and their contact information (in the event of an emergency) before you head out on the water.
Marine Search and Rescue on the Coastal and Great Lake waterways is coordinated by Canada's Department of National Defence who maintains Search and Rescue Co-ordination Centres (RCC) in Victoria BC, Trenton ON, and Halifax NS.
There are many ways to initiate a distress call. A distress call can be signalled by visual or audio means, by the spoken words MAYDAY by radiotelephone (Marine VHF), by Emergency Position Indicating Radio Beacons (EPIRB), or even by Cellular Telephone.
Distress call should be made on Channel 16 (156.8 MHz) VHF. The basic calling procedure is:
Mayday, Mayday, Mayday
Vessel's name and position
Description
Number of people on board
Details of your emergency
After transmitting MAYDAY, stand by on Channel 16 for a reply, and if no reply is given, repeat the message as required. If you need assistance, but your are in no immediate danger, (i.e.: you can't start your motor to get back to shore and the weather conditions are good), use Channel 16 and repeat 'PAN PAN' three times, then give the name of your vessel, your position, and the nature of your problem and what assistance is required.
Currently, all VHF radio operators are required to have a restricted operator's certificate (ROC) with maritime qualifications. Always remember: Once you have called another vessel on channel 16, take your conversation to a working frequency and continue. Don't risk tying up the emergency frequency with chit chat.
EPIRB (Emergency Position Indicating Radio Beacons) are buoyant radio distress beacons that send a signal detected by satellites and are then relayed to Rescue Coordination Centres. Pleasure Crafts are not required to carry an EPIRB, however they are recommended for travel in remote locations (where VHF Radio coverage is limited).

EPIRB's must be registered with the National Beacon Registry at: 1.800.727.9414
GMDSS: When a boater initiates a distress or urgency message by Digital Selective Calling (DSC) or by voice on channel 16, the call will be received at the closest Coast Guard Marine Communications and Traffic Centre (MCTS). Marine VHF, Marine MF/HF - DSC radio, EPIRB, NAVTEX and Inmarsat work together to form the new international system known as the Global Maritime Distress and Safety System (GMDSS). This system ensures that distress alerts are quickly relayed to the Coast Guard and the vessels in the immediate vicinity. If equipped with a GPS receiver, the exact location is automatically transmitted in a digital distress alert. Recreational vessels are not required to carry GMDSS-compatible equipment, however it is highly recommended.
Cell Phones: If a cell phone is on board, assistance can be reached by dialing *16. In most areas, this will connect the boater directly to the nearest Marine Emergency Centre. However, this should NOT be used as an alternative to equipping your vessel with a marine VHF radio.
A false alarm is an offence under the Criminal Code of Canada. Such a signal could start a full-scale search by Coast Guard Ships, aircraft, commercial ships and fellow boaters that could potentially tie up resources from helping a legitimate call for help, not to mention the cost of such a prank. It is up to boaters to ensure, before initiating a distress call, that the danger to life is real.
Distress Signals
As per the Collision Regulations, with Canadian Modifications:
A gun or other explosive signal fired at intervals of about one minute
A continuous sounding with any fog-signalling apparatus
Rockets or shells, throwing red stars fired one at a time at short intervals
A signal made up by any signalling method consisting of the group SOS in Morse Code
A signal sent by radiotelephony consisting of the spoken word MAYDAY
The International Code Signal of distress indicated by the flags N over C
A signal consisting of a square flag, shape or anything resembling a square shape having above or below it a ball or anything resembling a ball
Flames on the vessel
A rocket parachute flare or hand flare showing a red light
A smoke signal giving off orange coloured smoke
Slowly and repeatedly raising and lowering arms outstretched to each side
Signals transmitted by emergency indicating radio beacons (EPRIB)
A piece of orange canvas with either a black square and circle or the symbol appropriate for identification from the air
A dye marker
A high intensity white light at regular intervals of 50 to 70 times per minute